Curriculum Update:
Mississippi State History: From a Christian Viewpoint
is great for Christian Schools, private schools,
and homeschools!
As of August 1st, 2012, we have updated the 6th unit of the course to include the election of the current governor of Mississippi, Phil Bryant. If you have not purchased an updated answer key with the current changes, we recommend you do that.
What Others are Saying
About Mississippi State History: From a Christian Viewpoint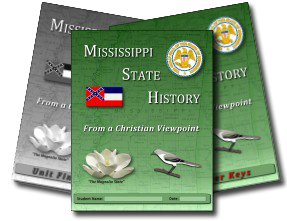 "After trying two different courses, our school is very pleased with Mississippi State History: From a Christian Viewpoint. We like the thoroughness of the material. The truly Christian perspective interests the students as they read through the course. It is not just a secular textbook with a study guide. We are enjoying the historical information about churches and missions."
- Brenda Sauvageot, Teacher: Heritage Christian Academy, Tupelo, MS
"This book is a well-organized presentation of our state's history. It is an enlightening and entertaining course for students. Viewing history from God's perspective gives one a fresh appreciation for the past."
- Pencie Latham, Retired Librarian: Oxford, MS
"Mississippi State History is written from a Christian perspective. It covers the history from this great state and is written at a level in which students can learn and retain the curriculum. We proudly use it in our school and will continue to do so."
- David Harrell, Principal: Happiness Hill Christian Academy, Union, MS
"My favorite thing about the Mississippi State History course was learning about my home state and the great leaders that led it. I also enjoyed the projects that were placed throughout the course. Our school went on a field trip to the Governor's Mansion, which was really cool since I had just learned about it, and the governors who had lived there."
- Miriam Hill, Student: Faith Christian Academy, Water Valley, MS
"Mississippi State History is a course full of information about many interesting things. I enjoyed this course, especially learning about the Natchez Trace. I think all students would enjoy this history course."
- Kameron Stanford, Student: Heritage Christian Academy, Tupelo, MS
"Mississippi State History was challenging, yet informing. The information contained in the PACEs helped me to learn more about my state."
- Brooke Blasiola, Student: Happiness Hill Christian Academy, Union, MS